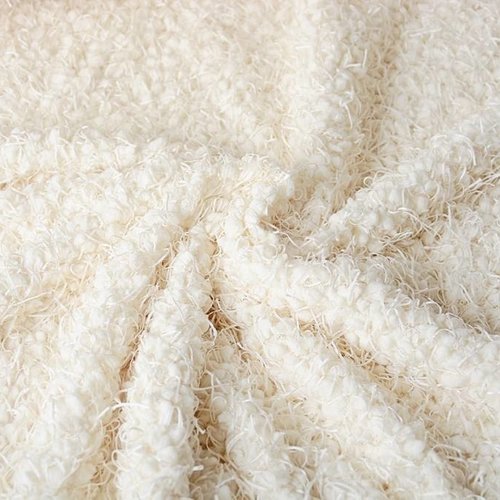 Bouclé Fabric
Bouclé fabric
Our furniture is made of various materials, including bouclé fabric. Bouclé is a woven fabric with a surface of loops. Below we explain what bouclé fabrics are, how to maintain them, and the advantages and disadvantages of the fabric.
What is bouclé fabric?
Furniture upholstered in bouclé fabric is an emerging trend in various interiors. But what is it exactly? Bouclé translated means 'loop' and is a fabric with woven pieces. These woven pieces form loops, forming the familiar fabric. Because it is a special way of weaving, you get the bouclé fabric with different structures.
The fabric owes its popularity to the French fashion house, Chanel. She was one of the first to develop the famous suits with woven fabric. Nowadays we see the fabric increasingly come back in the interior. 
Because of the soft and fluffy appearance of the fabric, it is sometimes called teddy fabric. This is not at all surprising, because both have a soft appearance. However, there are clear differences between the two fabrics. A teddy fabric feels like sheepskin. Bouclé fabric looks very woolly from a distance, but this is not the case.
The advantages and disadvantages of bouclé
The fabric has a luxurious appearance and brings several advantages. In addition, there are also several points to take into account. Below you can read the advantages and disadvantages of the bouclé fabric.
Advantages
+ Soft and warm
+ Hardwearing
+ The fabric is dirt repellent
+ The fabric is not sensitive and hardly wrinkles
Disadvantages
- Can discolor in contact with sunlight
Maintenance of bouclé fabric
A piece of furniture made of bouclé is easy to maintain because it is hardwearing and stain-resistant. Because the fabric is not naturally water repellent, we recommend that you treat the fabric once every six months with a
Textile Care Kit
.
This contains a cleaner and a protector that specializes in cleaning and protecting your furniture from grease, oil, water, and other stain makers. The protector makes the fabric water-repellent and stain-resistant.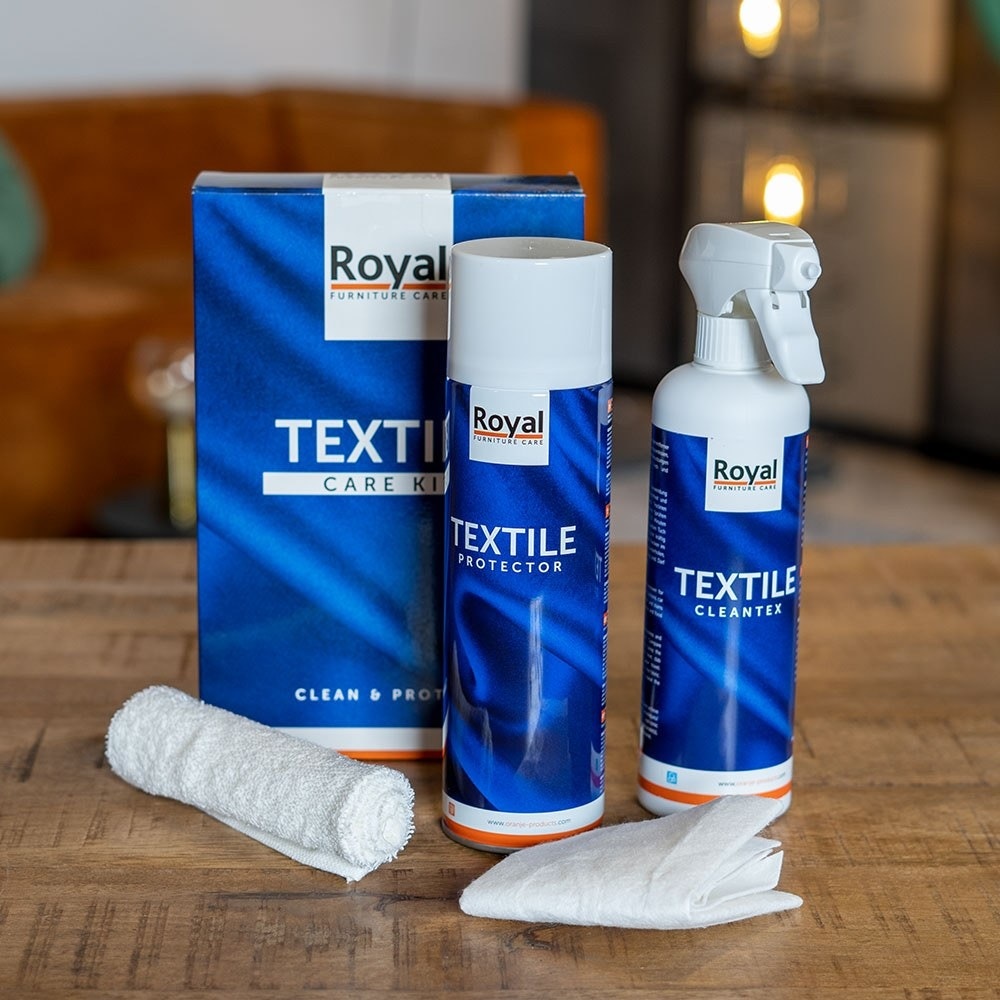 Cleaning bouclé
A bouclé piece of furniture is easy to clean, making it perfect for furniture. Of course, you want to enjoy your bouclé furniture for as long as possible, so it is advisable to maintain the fabric. Fortunately, this is very easy. Regularly vacuum the fabric to remove all crumbs, dust, and hairs.
Should a stain occur in the fabric, there is no reason for panicking. First, try to gently dab out the stain with a little warm water. Be careful not to rub, this is not good for the woven fabric. If warm water still doesn't do the trick, try cleaning it with a mild stain remover. Strong stain removers should not be used! This will damage the fabric and cause unsightly stains.
The most beautiful bouclé furniture
We see bouclé fabric increasingly back on the furniture. The soft-looking fabric provides a warm feeling. In addition, it is also wonderfully cozy and comfortable. There are several options for the bouclé fabric in the interior to bring back. 
Bouclé dining chair
A bouclé dining chair ensures that you can dine in comfort. When you go for peace in the interior, a bouclé dining chair is perfect! The fabrics often have a neutral color, combined with round shapes. This ensures a tranquil look. In addition, you have the choice of different models. Think of a model with armrests, or go for a dining chair without armrests when you have less space in the house. 
Bouclé armchair
A large armchair covered with a wonderful bouclé fabric guarantees hours of seating pleasure. The soft fabric ensures that you can relax and sit comfortably. In addition, the fabric also stands for a luxurious look. With an armchair of bouclé fabric, you know for sure that you are sitting well!
When you go for even more comfort, you can also choose an armchair with a hocker! When this is all in a soft bouclé fabric, you get a wonderfully soft, comfortable feeling in your home.