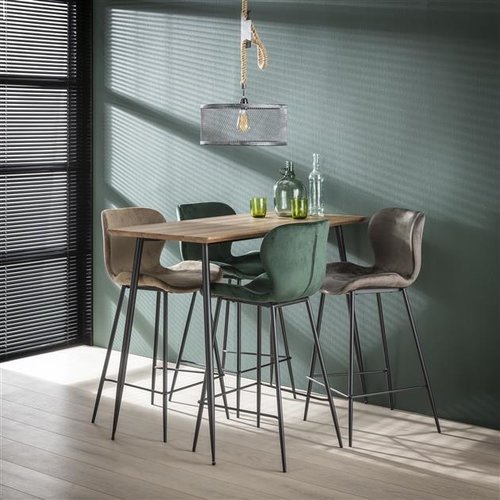 Retro Bar Stools
Choose a stylish wooden or metal Bar stool at Furnwise!
Bar stools in many varieties for every interior style
With Bar stools you can create a comfy and cozy atmosphere in the kitchen, dining room or even in the living room! Together with friends and or family enjoying diner, a quit bite or some drinks. At Furnwise you can choose from a wide variety of designs and styles of our Bar stools.
You are guaranteed to find a seating option to suit your home.
All products are shipped within 24 hours! This bar stool can be perfectly used in your kitchen or dining area as bar stool, kitchen bar stool or breakfast bar stool. It has many multiple purposes and can fit at your counter or kitchen island bar. 
Tolix bar stools
The Tolix stool is a world famous stool design that has inspired stool designs for decades. The quintessential stool design, a Tolix stool can be used in many interiors of varying styles to add an essence of class and practicality.Here at Furnwise we offer Tolix stools in different materials and colours to help you find the perfect stool for your home or break room. 
Please keep in mind
When purchasing bar stools it is important you keep in mind what space you have in the interior of choice and you pay attention to the right height of the bar stool(s). Most bar stools have a standard height of 65 or 75 cm, besides the height it is important you keep space between the stool and the bar, or bar table this space should be around 25/30 cm to keep your sitting comfort at it's best. And on top of that please make sure before buying you decide how many seats at the (bar)table you would prefer and what are the dimensions. 
Materials and the different finishes are also most important when selecting the bar stool of choice.
Bar stools with a comfortable seat
From a wooden bar stool to a metal one with a wooden seat, with or without arm rest of even with or without a back rest. Chrome feet a trumpet feet of the old classic wooden 4 feet frame. Besides looking stylish and upgrading your interior it is important the bar stools are comfortable and trendy, but also fit in nicely in the interior of choice. We have many examples available in different styles with different colors.
Helping you select at Furnwise
All products are shipped within 24 hours! If you need any assistance please feel free to contact us and we are more than happy to help you selecting your very own new bar stool!