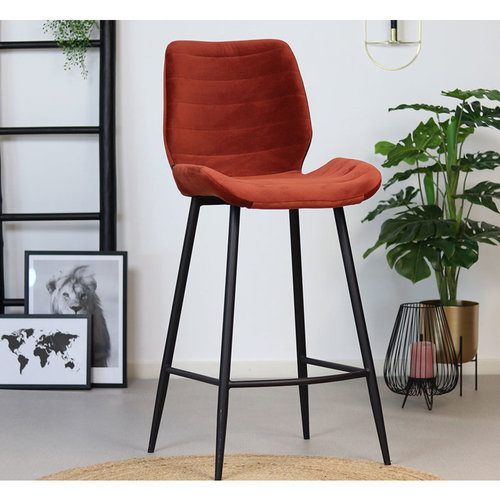 Velvet Bar Stools
VELVET BAR STOOLS: COMFORTABLE AND STYLISH
By adding a bar stool you create a real eye catcher in your living room. Velvet bar stools create a warm and chic look and also offer great comfort. In addition, velvet radiates luxury, elegance and a cool style. The velvet armchair is actually indispensable in any interior! The velvet bar stools from Furnwise are easy to keep clean and can be perfectly combined with other materials and interior styles. Thanks to the unique designs and beautiful colours, you will always find the perfect velvet chair to suit your needs! Also take a look at our dining tables to complete the look!
WHAT IS VELVET ANYWAY?
The velvet fabric originated in Asia and spread to Europe around 1400. Velvet is a stylish fabric that is often used for sofas, armchairs, bar stools and dining chairs. Bringing velvet into your home is a comfortable addition to your interior. Small loops are woven into velvet, creating a soft, shiny fabric. Velvet is wonderfully soft, very stretchy and very easy to maintain. Furniture made of velvet is very strong and suitable for intensive residential use. You will certainly have years of enjoyment from a piece of velvet furniture!
VELVET ADDED TO YOUR INTERIOR
Furnwise offers a wide range of velvet bar stools. The bar stools are available in different modern and trendy colours. You can find a velvet chair in black, but also a velvet chair in green for example. Whether you go for a striking colour or a basic shade, velvet is always a valuable addition! We have velvet bar stools with armrests and velvet bar stools without armrests. Thanks to the wide range of products, you can always find a velvet armchair that meets your needs. Do you prefer a armchair without velvet? You'll discover it in our range of industrial bar stools!
THE ADVANTAGES OF VELVET BAR STOOLS
Our velvet bar stools are comfortable, trendy and unique! The bar stools are designed to fit into any interior and the velvet bar stools can be combined with other furniture and living styles. In addition, the bar stools offer excellent comfort. Dining on a velvet armchair will never be the same! Combine several trendy colours at the dining table and create a cheerful and stylish effect! Besides the excellent comfort and stylish designs, a velvet armchair from Furnwise is easy to maintain. The velvet chairs are perfectly suited for optimal home use!
ORDER YOUR VELVET BAR STOOL TODAY
Have you made a choice? Superb! Do not wait too long and order your velvet bar stools at Furnwise. If your velvet bar stools are in stock, you can place them in your dining room in around 3 working days. You can easily order your velvet bar stools via the website. During the ordering process we explain how we can deliver your favorite product to your home.