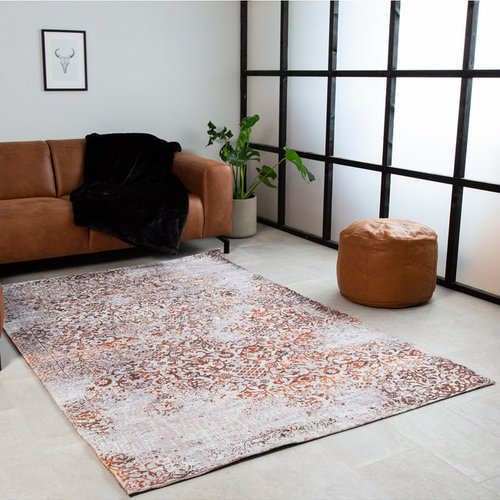 Looking for Rugs / Carpets ?
WHAT MAKES AN INDUSTRIAL RUG?
The industrial style has made a strong comeback in recent years. The industrial design rug can be found in more and more Dutch living rooms. With an industrial rug, different colours are used. These are usually a little duller to give them a more rugged and robust appearance.
Besides the duller colours, it is also very popular to give a rug a pattern that is not symmetrical. When it is symmetrical, you will often see the pattern become fainter or even fade away completely. There are several colours that work well with such a rug. Industrial green is very popular. Besides that we also see colours like:
Grey
Blue
Brown
Beige
Ochre Yellow
Black White
Taupe
Orange
There is bound to be a colour to suit your taste. Furnwise has all the options!
HOW TO COMBINE A RUG WITH OTHER INDUSTRIAL ARTICLES
A rug with an industrial look is perfect to combine with industrial furniture. Think for example of an industrial sofa or a coffee table with industrial design. Other matching accessories from our range include animal skins and decorative pillows. When it comes to rugs, you can choose from different materials. We have several options.
You can choose between a wool rug, a cotton rug and a fabric rug. All three fabrics have a different feel. Our cotton rugs are often flat and sometimes resemble the Kilim rug style. A wool rug is a beautiful natural product that is easy to clean. Cleaning is even easier with our textile care kit.
AN INDUSTRIAL RUG, FOR A ROBUST BUT WARM INTERIOR
I can almost hear you thinking, an industrial rug doesn't make a room warm, does it? Yes it does! An industrial rug makes a room with a light or concrete coloured floor more homely and warm.
Because rugs with an industrial style often contain certain colours, it breaks up the plain coloured floor. But because everything is made a bit duller, it doesn't scream in the room. Brown or red tints are often used because they radiate warmth. If you are looking for a more rustic and sleek rug, choose a blue, grey or green industrial rug.
INDUSTRIAL RUGS, LOW PILE OR HIGH PILE
First of all: what is the difference between an industrial low pile rug and an industrial high pile rug?
A low-pile industrial rug is a rug that is either completely flat or consists of a thin layer of upright fabric. The advantage is that low-pile is easy to keep clean. In addition, it looks very sleek. At Furnwise, you will find different types of low pile rugs, both plain and with a pattern, faded or otherwise.
A high-pile industrial rug, on the other hand, is a rug that consists of a thick layer of raised fabric. This industrial floor covering is extremely suitable for making the industrial living space a little warmer. Besides the warm look, it is also very nice to walk on with bare feet because it feels soft and warm.
Both industrial rugs are extremely suitable for an industrial home. But also for other types of homes it is a sleek robust addition to the interior.
WHY BUY AN INDUSTRIAL DESIGN RUG HERE?
You can buy an industrial rug at Furnwise. We have a wide range of rugs. We are happy to help you make the right choice both in our showroom and online. If you want to get some online inspiration, check out our inspiration page.
Are you still having trouble finding the right rug online or would you like to see the industrial rugs in real life? Please visit us online here Already know what you want? Then order your industrial design rug online!