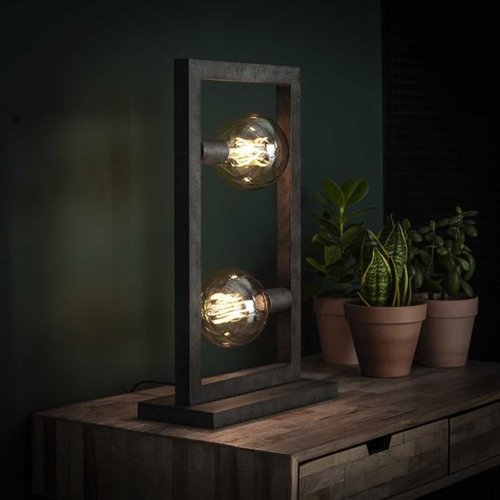 Industrial Table Lamps
INDUSTRIAL TABLE LAMP SUITABLE FOR ANY INTERIOR
An industrial table lamp is a smaller type of lamp. It is a collective name for different varietys. Including, for example, a reading lamp for the bedside table, or at a desk. In general, they are placed on side tables, in an open wall cupboard or on a sideboard. As this is a versatile product, we have also added many models to our range. From grey to black with old and weathered looks, to tough tripod with wood.
WANT TO BUY AN INDUSTRIAL TABLE LAMP?
In our assortment we focus on the industrial table lamp. These are very easy to combine with our industrial furniture. The popular models not only have a beautiful design, they are also super functional. This is one of the characteristics of the industrial living trend. In contemporary interiors easily recognizable by the rough shapes and materials. Where especially the neutral colors play an important role.
JUST THAT LITTLE BIT EXTRA IN YOUR INTERIOR WITH AN INDUSTRIAL TABLE LAMP 
So with an industrial-style table lamp, you can go in different directions. And you can decide for yourself to what extent you can add this living trend to your interior. It is of course a different piece of furniture than a large closet. With a lamp you add something of the industrial trend in a subtle way. They are not heavy at all so easy to move. The only thing you have to take into account is that there is power nearby. Nice and flexible lighting.
FUNCTIONAL AND BEAUTIFUL AT THE SAME TIME
The brightness (lumen) of the lamp light, which radiates your chosen model, ultimately determines whether the table lamp is industrially functional and practical. Or would you prefer that the product only provides atmospheric lighting? Lighting plays a prominent role in the interior. Once you have finally chosen your favourite model, the type of light source can still make or break your interior. This is not the case with us. We have added related products to all models. If you choose one of our light sources, you can be sure that your lighting is functional and atmospheric!
VIEW OUR ASSORTMENT
We have already mentioned a number of places where you can place one of our table lamps, but we are of course also very curious where you are going to place your favorite item. And are you going to use it as a decoration or as a functional item? We would love to receive your most beautiful picture by mail: [email protected] and who knows you might see your own interior on our inspiration page. This way you can also help other customers to make the right choice! Anyway: A table lamp industrial from us is guaranteed to be an eye-catcher in your interior and gives just that little bit extra!