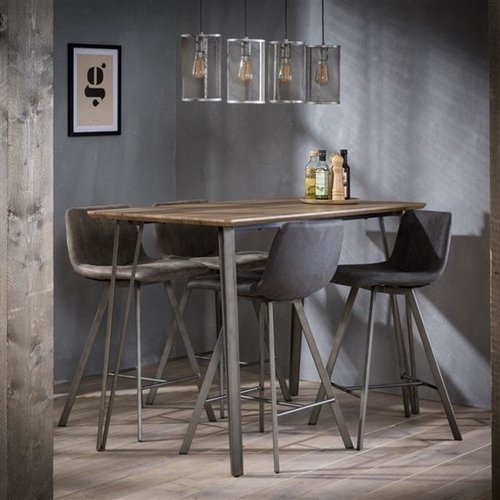 Bar Tables
INDUSTRIAL BAR TABLES FROM OUR PRODUCT RANGE
An Industrial Bar Table can not really be missing in your interior. With this item you give your interior a playful effect by going up in seating and dining height. Often placed in the catering industry, but also great to combine in your dining room or kitchen. Create the effect of a cozy cafe. Yes, and just at your home!
HIGH BAR TABLE WITH INDUSTRIAL DESIGN
The industrial bar table can be recognized by its functional shapes and materials. In our collection this can be seen in the black metal frames in combination with wood. This makes it very easy to combine with our industrial ceiling lights. On the one hand, the industrial bar tables fit perfectly with contemporary interiors, on the other hand, they have a fairly colonial look and are easy to combine in different interior styles. All in all, an eye-catcher with a robust appearance but with warm tones due to the wood.
DON'T FORGET THE BAR STOOLS AT YOUR INDUSTRIAL BAR TABLE
An Industrial bar table is multifunctional. For example, you can use it as a dining table to enjoy a drink or a bite to eat. But it can also serve as a desk when there is still work to be done at home. Are you having a party? Then it can be used as a standing table. Choose an industrial bar stool to create a beautiful set. Industrial bar tables are available in different heights. Just like our stools. Read our blog to find out what height stools are suitable for your favorite table!
A ROBUST LOOK FOR A LOW PRICE
Looking for an affordable Industrial Bar table? Then you've come to the right place! This is not only because of the quality and prices we offer, but also because of our service. Because our assortment is composed this way, all items in the categories can easily be combined with each other. This makes it possible to create a real industrial living style. How much you add of this trend is of course completely up to you. With our accessories you can already add a lot.