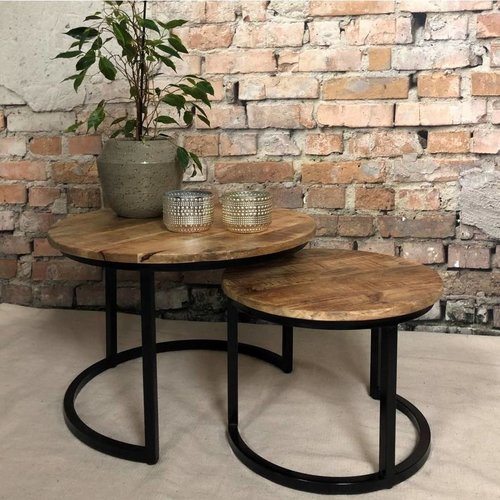 Industrial Coffee Tables
INDUSTRIAL COFFEE TABLE AS AN EYE-CATCHER IN YOUR INTERIOR
The industrial coffee table is not the largest piece of furniture in your interior, but certainly one that stands out. Not only practical because you can put a lot on it and can easily access it, but also a nice addition to your interior. The industrial housing trend is seen a lot in the contemporary interiors. Recognized by the raw and robust materials. This is also reflected in our collection. The black metal frames with the wooden tabletops are also very easy to combine with, for example, our industrial cabinets or the lamps. Are you as fond of it as we are?
BUY INDUSTRIAL COFFEE TABLES AT FURNWISE
Despite the fact that the coffee table is industrially a functional piece of furniture, it should certainly stand out. It is a central piece of furniture in your interior. If you choose the right one, it can make your interior complete! Make your seating area nice and cosy or use them to create beautiful decorations. Keep your your snacks, drinks and remote control within reach when watching your favorite series.
A ROUND COFFEE TABLE IN MY INTERIOR
During your search for your favourite item, you will probably come across different shapes. In addition to the shape, you can also choose a loose or a set of two or three. Our round sets can be slid underneath each other. Very easy if you want to save space, but also when you get visitors. Slide the tables apart for more space. Slide them back together if you don't need a lot of space and you want to create walking space around them. We also have an industrial square and rectangle coffee table in our collection for a sleek design.
INDUSTRIAL COFFEE TABLE MANGO WOOD
If you buy a industrial style coffee table from us, it is most likely made of the popular mango wood. This solid wood type has a warm appearance. Every product has a different structure and therefore no product is exactly the same. This is because the leaf is processed from a natural product: the mango tree. Would you like to know more about mango wood? Then read our blog.
BUY ONLINE 
Mango wood is very affordable, so you can score cheaply on your new industrial coffee table. The metal black frames in combination with the sturdy wood ensure that you are fully up to date with the current trends. Have you fallen in love with an industrial coffee table? Don't hesitate and order your favourite product quickly!