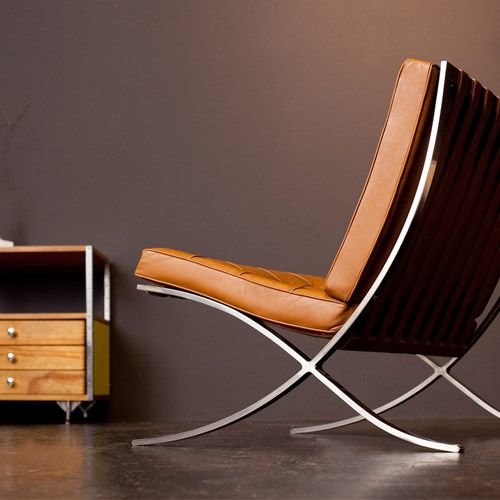 Armchairs
Looking for lounge chairs? 

The Barcelona Chair - One of our best selling lounge chairs
Stylish, comfortable, simple. The Barcelona chair is an iconic chair design that is increasingly popular in modern design styles. The Barcelona chair fits easily with a variety of design styles. Here at Furnwise you can choose from a variety of colours and sizes of Barcelona chairs to suit your lounge seating needs.
Find the right Barcelona chair for you and impress your friends and yourself with the sleek, stylish comfort it provides. Whether it's a vibrant social gathering, cosy film night or an afternoon of peaceful reading, your setting should be beautiful, comfortable and organised. The Barcelona chair provides just that.

The lounge chair as extra seating possibilite
Lounge chairs will mostly be seen as a chair to relax in or maybe even take a small nap! But besides the comfort it offers it also gives your interior a boost a beautiful lounge chair can contribute to an even better looking interior. Most of the time it will be place in the living room but the lounge chair or arm chairs will suit perfectly in any hall or bed room. At Furnwise we offer a wide variety of lounge and arm chairs. 

What material to choose?
Material wise almost anything can be chosen, from fabric, to leather, from wood to metal and even wood look metal frame of PU leather. But what material is suitable for your very own new lounge chair and what will fit in your interior? Fabric is a material that often feels warmer than leather, but leather often creates a more luxurious atmosphere and is easier to clean. If comfort is less important but the look and trendy design is more important metal could be a good choice for you, easy to clean and easy in maintenance. 

Multiple styles and possibilities we offer at Furnwise! Fabric, leather, pu-leather, metal or wood, everything is possible.

Quality meets design at affordable prices here at Furnwise!
We ship our products within 24 hours, including the Barcelona chairs range as lounge chair or armchair.