Leather and artificial leather: the facts
Advantages

Disadvantages

Leather:

+

Offers an authentic leather feel

-

More sensitive to tearing

+

Typically has a better finish than artificial leather

-

Can carry a strong odour

+

Durable

-

Can weaken over time

+

Supple and flexible

-

May lose its original shine and colour

Artificial leather:

+

Animal friendly

-

Less durable

+

Waterproof

-

Can sometimes feel cheap and plastic

+

Easier maintenance

-

Susceptible to wear and tear

+

Easier to clean

-

Holds on to warmth (can be advantageous; depends on personal preference)

+

Cheap
Leather
#1 How it's made
To begin, animal skins are treated with salt to counter the natural decomposition that would normally take place. Everything except the actual leather skin, which the hairs are attached to, is thrown out, which means a huge amount of material is thrown out at the tannery. The salt is then removed from the leather by cleaning the leather with water in a wooden barrel. The hairs and the fat are then also dissolved. Finally the last bits of meat are removed, and a naked hide is left; the actual leather.
Leather hides are then split into two, where the top layer – the grain layer – is used in the furniture industry. The lower layer is typically used for belts, shoes, and bags. However, in some circumstances this layer is also used in the creation of furniture.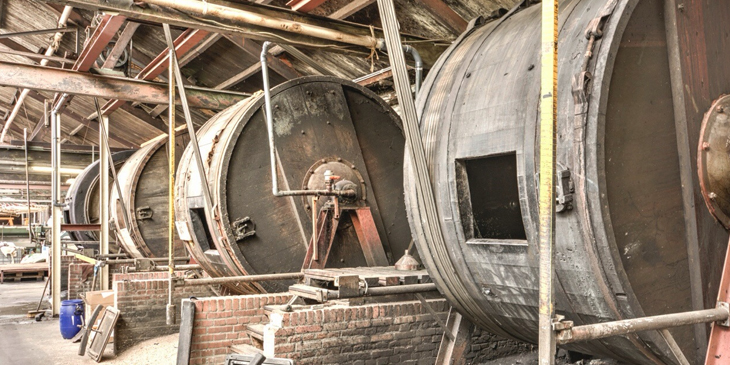 The next phase is deliming the leather skins, which also happens in barrels. Afterwards, the leather is pickled which helps the leather attain its supple structure and feel. Once again salt is used to clean the hide, after which the hide can be tanned. Once the hide has been tanned, it is taken through a machine that helps even out any differences in thickness.
When the hides return to the barrels, it is to add colour this time. This is to ensure that the colour really gets into the leather and so that they are evenly coloured. In this phase, production also adds a little fat to the hides. After the colouring is done, the leather is taken through a drying tunnel and then it is prepared for processing. Finally a layer is added to the leather that protects it from water and dirt. However, Aniline leather for example does not have this final layer, which is why it is a beautiful product but an nightmare to maintain.
#2 Different kinds of leather
Finished leather
The leather is provided with a pigmented upper layer which makes the leather hide less visible. However, it makes for a very durable and strong piece of leather, although it can be quite sensitive to discolouration by sunlight.
Semi-aniline leather
Similar to finished (or pigmented) leather, however the protective finish is a little thinner. This leather is closer to authentic leather.
Aniline leather
Beautiful to see, this type of leather is not provided a protective finish. This means that if the leather gets soaked it can become ruined and irreparable. This type of leather is not advised for use in furniture that will be used extensively.
Split leather
The lowest layer of a leather hide. Because there is almost no visible grain in this layer, this is provided by a paint finish. The grain is then artificially printed into the leather. This type of leather is typically less durable and strong than regular leather.
Pull-up leather
Ground up leather fibres are heated up and pressed into both sides of a cloth material to create pull-up leather. The quality is about the equivalent of split leather. The leather is then painted in several layers and protected by a transparent finish. By folding the leather the colour can become lighter over time, but if warmth is applied and rubbed against the leather, the colour will emerge again.
Artificial leather
Artificial leather (also known as imitation leather, SKAI, or PU) is a material made to imitate leather and does not share the same qualities as real leather. Artificial leather is made of synthetic materials which are applied to a textile carrier. Afterwards a structure is printed onto the synthetic material that resembles leather in some way.
Artificial leather is often used in the production of furniture such as chairs and couches, but also often for the production of handbags, coats, or shoes. This kind of leather also comes in many different forms. Many modern artificial leathers very closely resemble real leather and they often have the added benefit of being able to breathe. In these cases we most often talk about artificial leather made from polyurethane, which has a microporous structure. Artificial leather that cannot absorb moisture very well is usually made out of PVC or a mixture of PVC and polyurethane.
And, have you got a preference yet? Let us know if this article has helped you make a choice!