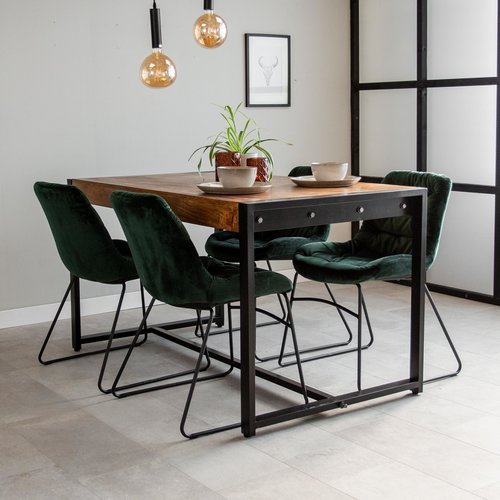 Dining tables
LOOK AT OUR OFFER OF INDUSTRIAL DINING TABLES
Are you interested in an industrial dining table from our range? We understand this very well! The dining area is a central element in your interior. It is often the heart of the house. There is time for each other and the day is discussed. To go along with the industrial living trend, you do not even have to make many changes in your interior. Because the dining table often takes up a prominent place in an interior, you're almost there. By placing new industrial dining chairs, your dining area immediately looks completely different!
WHICH SHAPE DO YOU CHOOSE?
Dine in style at an industrial dining table with a snack and a drink. At Furnwise, you'll find a wide range of dining tables on offer. There are various shapes available to choose from. We have oval, square rectangular and round dining tables. If you prefer to sit a bit higher, you could have a look at an industrial bar table. Something for everyone! Would you like more information on which shape suits you best? 
INDUSTRIAL MANGO WOOD DINING TABLE
The industrial living trend is based on old factory buildings and living styles from the 19th and 20th century. Characteristic are the rough, functional shapes and materials. A dining table with us is made of mango wood or oak, with in most cases metal legs. This gives them an industrial look. Also, the addition of a wooden dining table, gives the interior a warm and cozy appearance.
Mango wood has a light basic colour with darker accents. This gives the industrial table a tough look. Oak wood has a very natural look and is also very robust. An industrial dining table from Furnwise is therefore timeless and never boring!
NOT EVERYONE NEEDS THE SAME AMOUNT OF SPACE AT THE TABLE
All households are different. Therefore, the industrial dining table is available in different sizes and with different bases. So there is a suitable one for you too! Available in different sizes, with lengths from 80 to 320 cm and widths from 80 to 120 cm.
Types of frames of the industrial dining tables:
Metal X-foot
Metal U-leg
Metal cross leg in the middle
The industrial tables are therefore suitable for small to large dining room areas. But they will certainly not look out of place in meeting rooms or waiting rooms either.
BUY ONLINE AT DIMEHOUSE OR VISIT THE SHOWROOM
At Furnwise, you will find the most beautiful dining table for the best price! You can also come to us for an occasional table, coffee table or side table. If you have any questions, you can always contact our customer service. They also fulfil the role of personal shopper. You can reach us directly by mailing us or start a live chat.