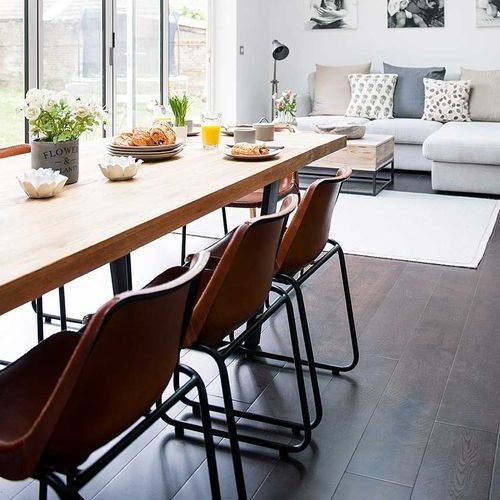 Looking for Dining Chairs?
Modern? Industrial? Stackable? Leather? Fabric? Look at our wide range of styles!
Picking the right Dining Chair
The Dining Chair can be usually found in the dining room at the dining table, or at least to sit on and enjoy your loverly dinner. With or without arm, leather or faux leather, wooden feet or metal and so on, all materials can and will be combined choosing your very own dining chair. The chair needs to look stylish, but! also needs to be very comfortable for the long cozy happy times in the dining room with family and/or friends. 

Please bear in mind the following when selecting your Dining Chair
What is important when purchasing your new chair(s)? First of all they need to match with your dining table/dining room! If you own an oak dining table or a white dining table you can match the easiest, but if you have other colors or maybe even colors combined, materials combined you really need to make sure the set will match with each other.
Do you like a smooth and calm setting, please make sure you pick chairs that match or are the same. This keeps the room nice and easy going. When you are going for a more playful look you can mix and match colours and materials. With or without arm rests, feet made out of wood or metal, wheels or no wheels all decisions that ultimately will help creating the setting in the dining room.
Is comfort the most important when it comes to making a decision or are looks the key factor. Also keep in mind that the seat height needs to match the (new?) dining table.  
What materials do I choose for my new Dining Chair?
The choice of material is very important when selecting a new chair. If you love the industrial style mostly a combination of leather (or PU leather) will be combined with a tough metal frame. If you go by country/Scandinavian style mostly chosen is the combination of wood and fabric. Fabric will create more warmth in your interior but is more difficult to clean than leather products. Leather on the other hand will create a more luxurious cool style in your interior and is easier to clean.
Tips for maintaining Dining Chairs
The origin of the Dining Chair
Chairs are used for centuries now, ancient Egypt was the first period the chair made it's appearance. It used to be a symbol of power and wealth, only the rich and powerful people were allowed to sit in a chair. This way they sat higher than the common people. Nowadays chair have a totally different meaning and purpose and are really common in any home.


Buying a Dining Chair?
All Furnwise dining chairs are shipped within 24 hours! If you are still looking for ideas/tips or our support please contact us and we can help you choosing the right dining chair for you.