15 furnishing tips for a small home or appartment
Furnwise offers you 15 tips to make the most out of your interior!
#1 Furnishing a small living room
A huge, wide open living room is not in the cards for everyone, but that does not mean we cannot spruce up our small one and make it a comfortable home!
The crucial thing to consider when decorating a smaller living room is to find a way to create space. For example, you can use an empty corner to display or store some of your books. Other ideas are to use multifunctional furniture in a small home to get more use out of the space. Imagine, for instance, a dining table that can be expanded, a sofa bed or a coffee table with room to store some of your things.

#2 Furnishing a small bedroom
Furnishing a small living room can be a bit of a chore. Your bed is the most important element in your bedroom, and you should not compromise on finding the right size bed, regardless of the size of your bedroom. Make sure your bed is spacious and comfortable, and more importantly in a small bedroom, high enough. A high bed will allow you to use the space below your bed for storage, for example by using drawers that can hold your things.
Another important thing with a small bedroom is choosing the right size wardrobe. Use the height of your bedroom to your advantage and find a closet that goes as high as you are comfortable to ensure maximum available space. You can also choose a deeper wardrobe, so that you have even more space available. Furthermore, you can use your space optimally by using small side tables, which can be placed anywhere conveniently.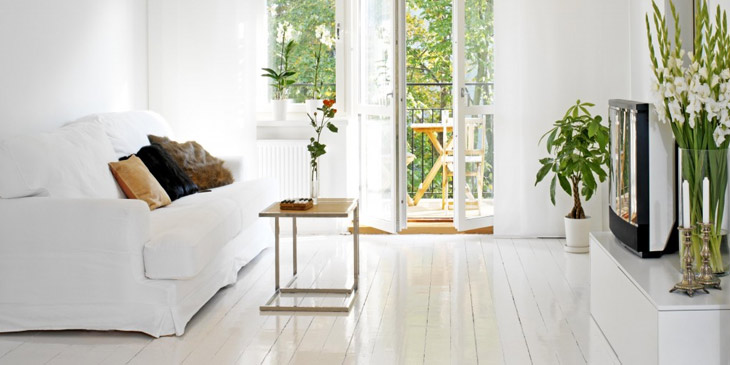 #3 Play with light and space
A small room cries out for light! Lighter colours in your interior will enhance any natural light that your home might have access to, because lighter colours reflect light while darker colours absorb it. A very good reason to use lighter colours in a small room, as it helps you to avoid your home feeling oppressive. Furthermore you can enhance your home's atmosphere by adding accessories in deeper, warmer colours. Think of neat little pillows or a lovely rug.

#4 Make effective use of partition walls
To create the illusion of space in a home, it is important to keep a clear overview and maintain rest in your interior design. One way to do this is through the effective use of partition walls. This does not mean you have to put up whole walls at once, but you can also use a room divider or even a lovely wardrobe or bookcase to create a partitioned effect.
Plants and furniture are a simple and easy way to create and emphasize transitions between rooms without losing effective space in the process. You can, for example, put a few plants next to each other for this effect or even use an armchair to create the same effect.
#5 Using glass and mirrors
Are you a go big or go home kind of person? You should consider using a glass wall in your home, instead of a brick wall or similar type. A glass wall will open up your home to more light and makes the connected rooms feel more spacious, while keeping a clear divide between the living spaces.
Another age-old trick that always seems to work is using a beautiful, big mirror that creates the illusion of a lot more space. An enormous wall mirror can be placed strategically to help the room feel effectively twice as large.
When placing a mirror like that, make sure to keep the incidence of light in mind. If you want the room to feel wider, you should place the mirror against an already wide wall. Yet, if you want a taller room, placing the mirror against the background of a narrow wall is key.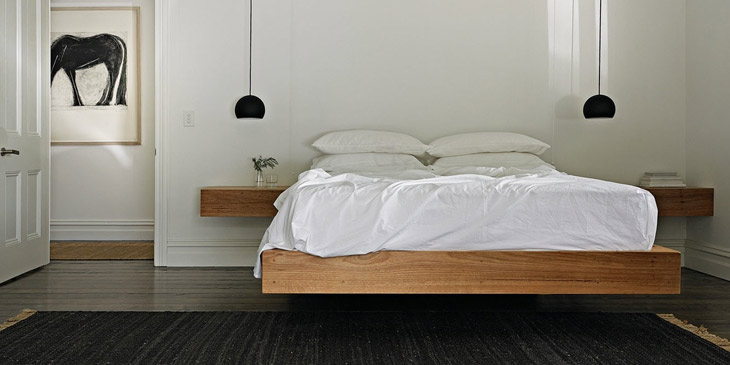 #6 Floating furniture
Floating elements or shelves are hugely practical and perfect for a small apartment or living space. You can also allow a lot of furniture to assume a floating set up, for example by putting up your TV cabinet on the wall. This creates more space and looks pretty fancy to boot! A bookcase can take up a lot of space, so if that is not your thing, you can also replace your bookcase with several shelves and wall mounted boxes for a clever and original storage system.
#7 Making use of your floor
The floor can be a big contributor to how spacious and light your living space feels. As a result, using the wrong colour, or material, for your floor can make the space feel a lot smaller. If you want the space to feel larger, then you will want to use the same colour for the floors as for the walls. This creates cohesion in the space and helps create the illusion that your furniture is actually floating.
Another useful tip is to allow for the floor to run continuously from room to room, because rooms will feel smaller when every space is given its own unique floor. You can expand on this effect of a continuous floor by leaving out skirting boards or even door posts to create a seamless flow between the rooms in your home.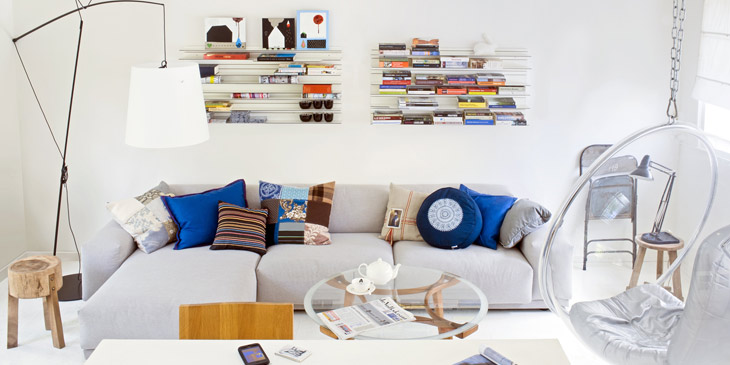 #8 Correct lighting
Using the right kind of lighting is essential when creating your interior design, but is even more crucial when decorating a smaller home or apartment. Not every home is blessed with large windows, so when you lack natural light it becomes more important to use the proper lighting to brighten up your home. It is definitely advised to light your home on several levels, for example by using a ceiling lamp, a wall lamp, and a floor lamp combined. This sort of diversity in your light sources will help your smaller spaces feel larger.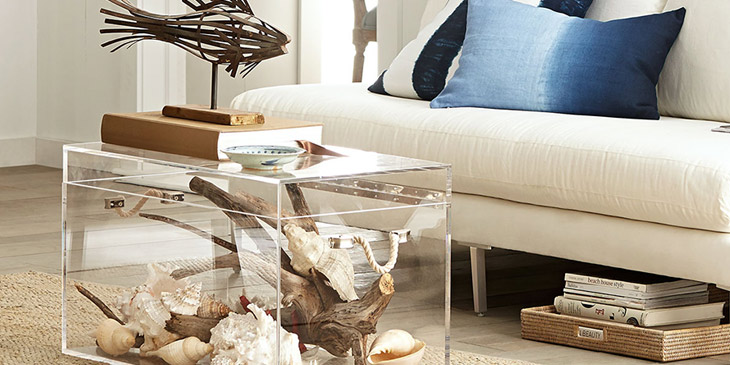 #9 Transparent elements
Transparent furniture or other elements are a key way of creating a spacious interior. The more you can see in a room or through a room, the larger the space will seem. Transparent furniture are a perfect way of achieving this effect. These kinds of furniture are practical but also seem fancy, and help create an airy atmosphere in your home.
Think, for example, of a coffee table with a glass table top, or you could even consider using a transparent box as a coffee table instead. Besides looking good, a box like that can be very practical because it can be used as a storage space as well!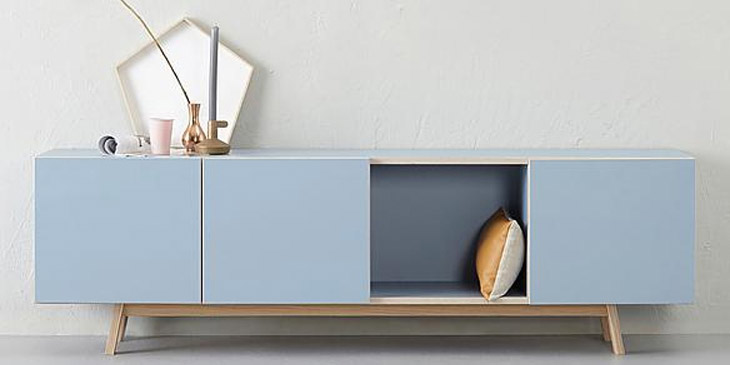 #10 Going up
You can further expand on the spacious look you create with the previous steps, by choosing furniture that have legs to stand on. Another way to create space between furniture and floor, this once again creates that spacious feel by exposing the floor on a larger scale. Furthermore, furniture on legs is very in again, and common in Scandinavian decorating styles. Another tip is, if you don't have enough space for a tall bookcase or cabinet, you can instead find some nice looking crates and stack those on top of each other. It creates a lovely feel and offers plenty of storage.
#11 Accessories
Accessories are the finishing touch in your interior, and having a small space means you cannot make concessions when you are buying accessories. Subtlety is key when decorating a small home. Get yourself some nice baskets or storage boxes so you can keep your things neatly in one stylish place. This way accessories are not just nice to look at, but functional, too. Other touches to consider include a few candles, and some nice pillows in bright colours. It is important to add a personal touch and atmosphere to your home, so long as you keep it simple and orderly to avoid clutter.
#12 Time to tidy up!
We people are hoarders and usually keep more things at home than we even realise. Reorganise, tidy up and take out what you no longer need. Give it to charity or a second-hand store, or even to neighbours who might be able to use your old things. And if you are having trouble getting rid of things for real, then put them in a box and keep them away from the rest somewhere else for a time. After a while, for example a year, you will not have any trouble getting rid of these things!
#13 Playing with form
Boring, regular old furniture can sometimes seem dull and boring in a small home or apartment. To avoid that, you can play with form in your interior to make it more exciting and playful. Think for example of a nice round lamp, or a cabinet or bookcase with different layers made of different materials. A round table in a square or rectangular room can also help spice up the room. An alternative to that is a couch with rounded corners.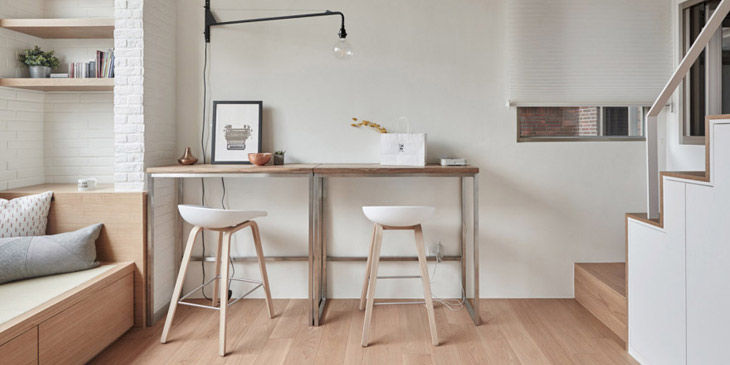 #14 Do's and don'ts
Don'ts:
- choose furniture that is too large
- fill up the corners in your rooms
- use furniture that is too rectangular
- get too many unnecessary accessories
- use too many dark colours for floors and/or walls
- accentuate width over height
Do's:
+ use round elements in your home
+ tidy up regularly
+ keep the use of of accessories limited
+ play with lighting on different levels
+ create depth with several layers
+ keep it light and airy
+ use multifunctional furniture
+ aim for transparent elements where possible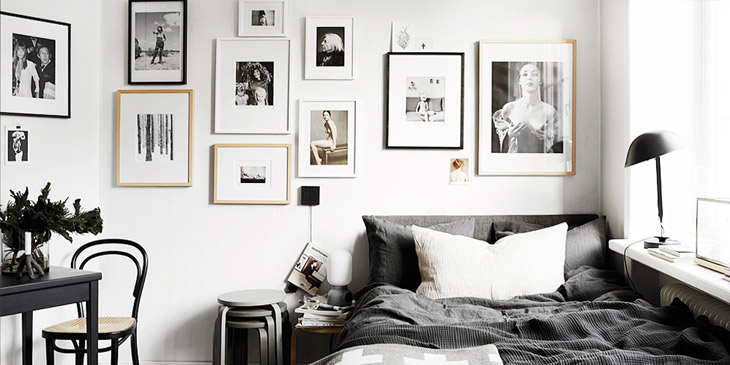 #15 Your personal touch
Do not forget to put your personal stamp on your interior by adding elements that are characteristically just you. And if you are a true lover of interior design, you do not really count until you have a beautiful gallery wall. Put up pictures of your loved ones and hang up some greeting cards from places you have visited. Achieving the perfect balance in colour, frames, and shape do make the gallery wall a difficult element of your interior. The current trend seems to be that, in addition to using frames, to attach your photographs to the wall by making use of tape.
Have you learned something from these handy tips, or even found some inspiration to furnish your small home or apartment functionally and stylishly? Let us know in the comments below!